Smart protecting of the house
It takes care the safety of all residents and his own. An intelligent home notes any danger and because they are connected to each other all the devices, can react immediately: trigger an alarm, call you, turn off water or appliances.
Home security takes many forms: it's not just about a handy alarm
When it comes to secure households, it's not just an alarm. Conventional alarms often prove not very beneficial. For a house to be really safe, has to know protect their residents even before accidents or even a fire.
As an invisible shield, your home protects you from unwanted guests It reliably detects, reacts with striking flashing light, loud sound in every room and lets you know immediately with notifications or phone calls.
An intelligent house can pretend your presence, for example, while on vacation. Lighting, shading technology and even music will be as active as you would be at home. This will discourage any uninvited guests.
Protection against fire, heating and other hazards
Loxone Smart Home will take care of your peace of mind. Identifies the presence of water where it should not be, fire, smoke, carbon monoxide, etc. He responds immediately to everything (turning off water, gas, appliances, triggering an alarm, pulling out blinds in the wind …) and let you know everything.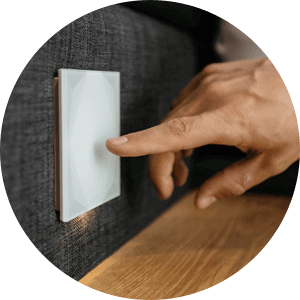 When it´s needed a button can be defined to trigger an alarm by clicking: flashing lights, shading out, acoustic alarm. At the same time, the house can call for help by phone.
Dangerous features like controlling the sauna or the pool cover will only be accessible to you. You can also deactivate the stove, drawers and buttons. Really popular at parents the timed shutdown of TV.
Building protection: House takes care of himself
Life likes to bring unexpected surprises when we least expect them. You can't count on them, a smart house, yes. Closes windows in a thunderstorm, prevents pipes from freezing or damage to blinds from strong winds and much more.
Security of privacy: My house, my data
All your personal data is carefully guarded directly in your Miniserver and is protected by couple of security levels. Nothing is sent to a remote server (to the Cloud) like other systems. Loxone does not working with your data in any way and defends the privacy of users to 100%.
You know immediately about:
Water leakage can have many causes: breaking the pipe, clogged drain, inattention when you preparing a bath. To avoid serious damage, the app will notify you immediately.
Early fire detection can save both property and human lives. Loxone Smart Home offers reliable detection of combinations of existing temperature sensors and smoke detectors.
Full alarm without additional devices
You do not need to buy and install an additional expensivce security system. Intelligent home components such as motion sensor, window and door contacts, temperature sensors,audio and blind system or lighting are even more powerful when combined. Not only monitoring all hazards, they can respond independently.
You won't miss nothing important ...
Your home can call you and read a message about what's going on at home. Anywhere in the world, even if you aren't connected to the Internet.
With the app you can view the status of your alarm system at any time and activate or deactivate it. At the moment of an alarm, you will be informed immediately.
The alarm can be activated by the exit button, the remote control, from the application or even automatically according to the schedule.
If only the window contact is closed but there is not detected any movement in the room than only the first alarm level is triggered.

Set up different zones for guarding. The garage and ground floor will guard the house even when you are sleeping. The rest of the house then only when no one is there.

An overview of everything at any time
What's going on at home or who rang the door? You'll find everything in the app, even when you're thousands of miles from home. And you can respond immediately.
Your home will inform you by voice message or phone notification if your garage door or window is still open at the night time.
The alarm is activated after the time of the delay which have been selected by you. This will prevent false alarms from being triggered by mistake.